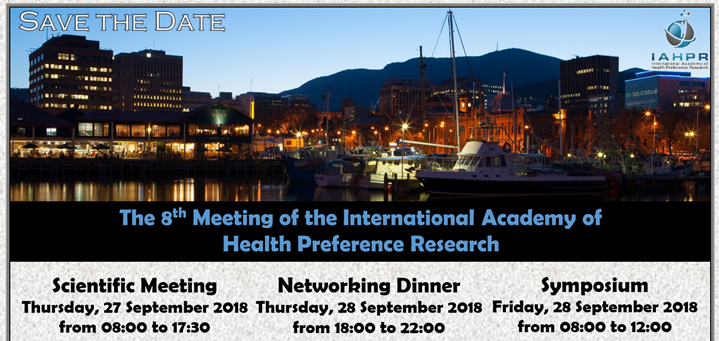 The 8th Meeting will be held at the Hobart Function and Conference Centre in Hobart, Tasmania, Australia and chaired by Brendan Mulhern and Richard Norman. Its symposium will be on "The Design of Discrete Choice Experiments."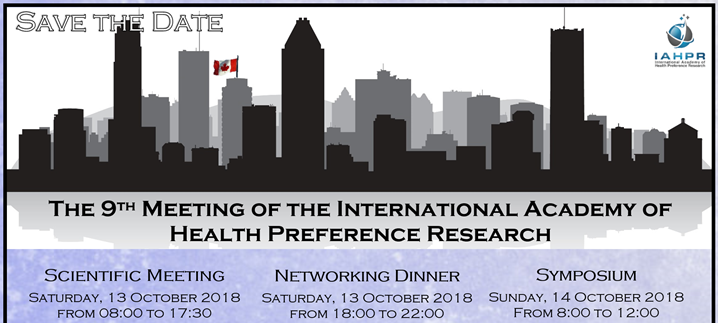 The 9th Meeting will be held at the Centre Monte-Royal in Montréal, Québec, Canada and chaired by Meenakshi Bewtra and Jan Ostermann. Its symposium will be on "Support Tools for Preference-Sensitive Decisions."
---
About the Academy
Established on 15 April 2014, the International Academy of Health Preference Research (IAHPR) is a member-driven, inter-generational organization that promotes educational activities and research with respect to health and health-related preferences.
Our aim is to improve decisions about health and healthcare throughout the world by developing, promoting, and supporting health preference research with the widest possible applicability.
Our mission is:
To provide leadership in health preference research;
To promote the products and services developed by IAHPR and its members and to support individuals and organizations across the world seeking to use them;
To foster and support an international community of researchers whose activities support health preference research;
To ensure access to the accumulated research expertise of IAHPR members and to actively promote the transfer of knowledge, evidence, and technologies regarding the use, analysis, and interpretation of health preference research;
To support promising early-career researchers in the field of health preference research through involvement in IAHPR activities.
To assure independence between scientific and institutional decisions, the Academy is comprised of two separate 501(c)(3) non-profit organizations: the Association and the Foundation .
To donate to our Academy, please send an email to: contact@iahpr.org

Our activities are sustained through donations and member services. Any amount would be greatly appreciated. In an effort to promote greater financial transparency, we have posted our 2015-2016 financial statements and 2016 tax return. Please contact our office via email if you have any further questions.